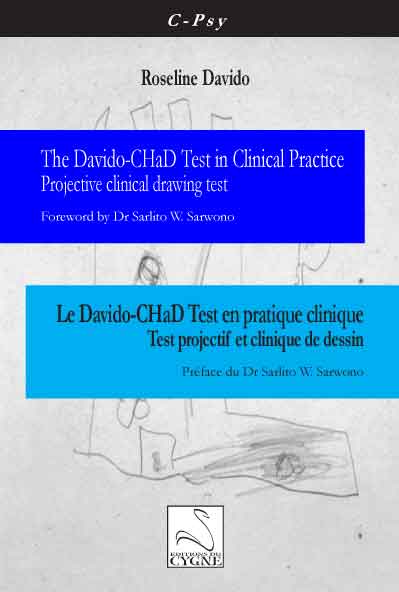 The Davido-CHaD Test in Clinical Practice/
Le Davido-CHaD Test en pratique clinique

ISBN : 978-2-84924-345-9
14 x 21 cm
102 pages
13,00 €
CHaD is a projective technique and its aim is to fish out everything hidden in the unconsciousness, particularly those from the childhood experience.
CHaD doesn't rely only on standardized symbolic meanings in interpreting the test but also uses observation and post test interview to analyze the drawings, and particularly to dig as deep as possible into the center of the unconsciousness.
The secret of the effectiveness of CHaD is that it requires hand drawings, instead of other objects. CHaD is not and an ordinary projective test, but a projective test plus, because its ability to disclose more from the unconsciousness when used together with good interview technique.
Le CHaD est une technique projective dont la finalité est de déceler la personnalité du sujet en révélant une partie de ce qui est enfoui dans l'inconscient, particulièrement les expériences vécues dans l'enfance.
Le CHaD ne se confine pas à certains critères réductifs, il permet au sujet d'ouvrir, lors de l'entretien, tous les champs de son inconscient. Le secret de l'efficacité du CHaD est qu'il comporte le dessin de la main avec lequel les sujets se montrent plus ouverts pour parler d'eux-mêmes. Avec le CHaD, ils s'impliquent alors que dans d'autres tests, le thème qui leur est imposé ne les concerne pas vraiment.
Le CHaD est un test plus riche car il permet à l'inconscient d'affleurer si le psychologue est bien entraîné à la technique des entretiens.